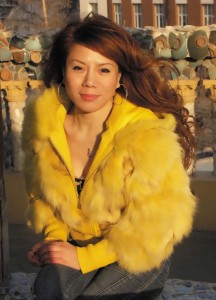 Mei Drucker, formerly Tao Hong Mei Qi, grew up in Sichuan Province in Southwest China. Mei Qi, which means beautiful mountain, graduated with a Bachelor of Arts from Sichuan Academy of Fine Arts in 1988. Mei's father and older sister are well known artists in China. Her father influenced her love of painting since she was a small child.
Mei's paintings are inspired by bright gorgeous colors, strong emotion and the rhythmic beauty of dance. She paints with bright vivid colors in a style that is a unique form of expression. Mei paints with both acrylic and oils. Her style ranges from traditional Chinese art to the beautifully abstract. Mei loves the process of creating a painting as it unfolds from a bare canvas to a beautiful creation. Her heart goes into each of her paintings with the goal of spreading happiness and joy through her art.
Mei is well known in China for her paintings and her murals which are her specialty. Her murals grace the walls of restaurants, tea houses, business offices and people's homes. Before leaving China she was the art director for a large government software corporation. Her art could be seen throughout this building including a 60 foot mural in the main hallway. Mei's paintings have been purchased by collectors from China, Japan, Australia, France, Turkey, Canada and the United States. She has won many awards including Best of Show in the 2008 Hong Kong exhibit for her 2008 Beijing Olympic painting. Since moving to Mount Shasta she has won Best of Show for her Blue Lotus painting and her design was featured on the 2013 Mount Shasta July 4th tee shirt.
Mei moved from China to Mount Shasta in 2010 and now calls Mount Shasta her home. Mei needed a showcase to display her paintings and other designs so in May, 2015 she opened Mei Drucker Art Gallery & Gift Shoppe at 418 N. Mt. Shasta Blvd in Mount Shasta. Upon entering her gallery you are bathed in bright detailed colors which is the signature of her art. Mei's art can also be viewed on her website at www.meidruckerart.com. She can be contacted at 530-925-4015 or emailed at meidrucker@att.net.